Behind the camera on Gold Rush: White Water
What's it like to work in the Alaskan mountains and bear country for six months as part of a camera team? One of our members Nigel Dupont is a Director of Photography and HSE commercial qualified diver and does just that. In charge of capturing those epic underwater shots on the Gold Rush: White Water series over the years, Nigel's experience goes beyond the camera in these environments and he's shared a little bit of insight into the challenges faced and skills needed to capture a series like Gold Rush: White Water.

The adventure and challenges start out with just getting to work. Our location is pretty remote so we would helicopter to the camp on a Monday and back out on a Saturday, all weather permitting. Our homes were tents up the mountain where we had no phone reception at all. When needed, and when it worked, we had a satellite phone which gave us very limited access to email to keep up with work and personal emails.

Bears were also a constant threat as we were living and working in bear country! Although our camp had an electric fence to stop the bears, this didn't always deter them and would often cross over and raid the camp for food. We all carried pepper bear spray and a horn 24/7 but thankfully I've not had to use mine yet!

On shooting days, the adventure is kicked up a notch. For season five, we had to cross a 400 foot ravine by zip wire to get to location every day. We'd then drop down on ropes to the dive site with all our cameras packed in bags which we carried with our lunch on our backs.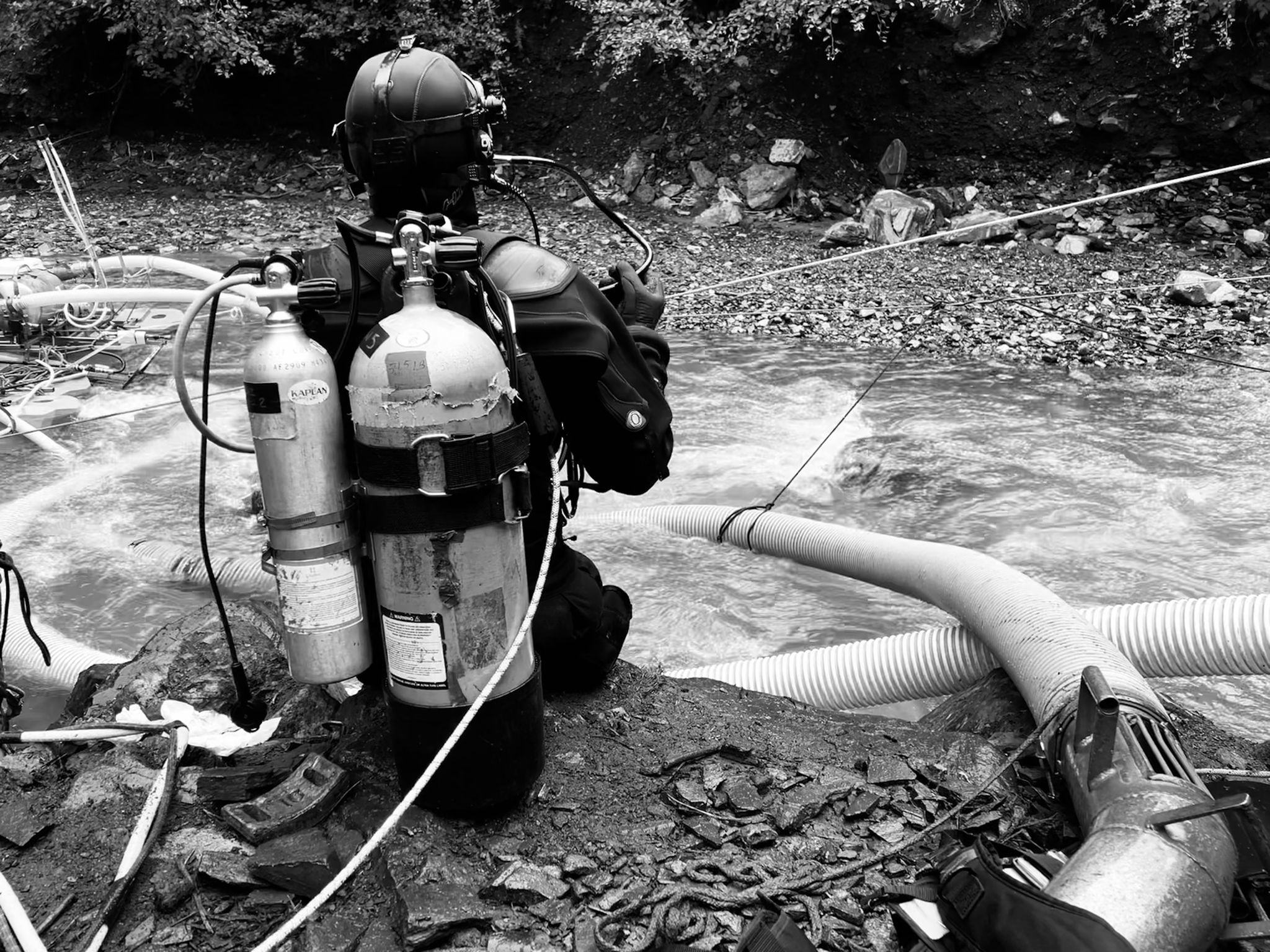 For filming underwater, I was diving with the miners in glacial meltwater. The water comes straight off the glacier so it's fast flowing and pretty cold. I use a dry suit and lots of thick undergarments to keep out the cold and to stay rooted in the fast waters, it's important to be really heavy. I normally carry about 45kg of lead weights just to sink to the bottom and not move too much. That's fine when in the water but carrying that much weight makes getting in and out very difficult!

I'm also tethered to my diver tender with a safety line attached to my back which carries a communication line down the middle. This way I can talk to my tender and they can talk back. The tender can also use the line to help pull me out should there be an emergency. Lots of measures put in place to keep the production as safe as possible! I would dive most days when it's safe to do so but when it wasn't, I focussed on creating time-lapses, sliders and stills.

When it comes to filming in the water, I use a Nauticam underwater housing for the Sony A7Siii camera and a 12-24mm Sony lens. There are plenty of challenges when shooting too in this kind of environment. For example, I have got used to navigating how to capture shots despite the water clarity, which is often cloudy from the silt that's released in the water as the glacier melts.

We're already working in quite extreme, remote conditions but it turns out that earthquakes here are surprisingly common. We had managed to avoid any earthquakes mainly over the years, which is a relief when filming in high sided ravines with very loose rock. However last year I was in the water when we were hit by a pretty strong earthquake, lots of rocks fell all around the crew working and destroyed tents.

I wasn't aware of the earthquake as I was underwater but I knew something was up when unannounced I was pulled to the surface by my tender and told to get out of the water. Our location is definitely not somewhere you want to be during an earthquake, but thankfully we all made it out, had a great time in spite of the dangers and produced a great new season of the show!
By Nigel Dupont
---
Back To Blog
Related Posts