Filming Bopper and Me
I had just been asked to shoot a feature length documentary. Filming would be in Iowa, USA, and later in the UK. We were to fly out in just a couple of days so there was much to do and the pressure was on.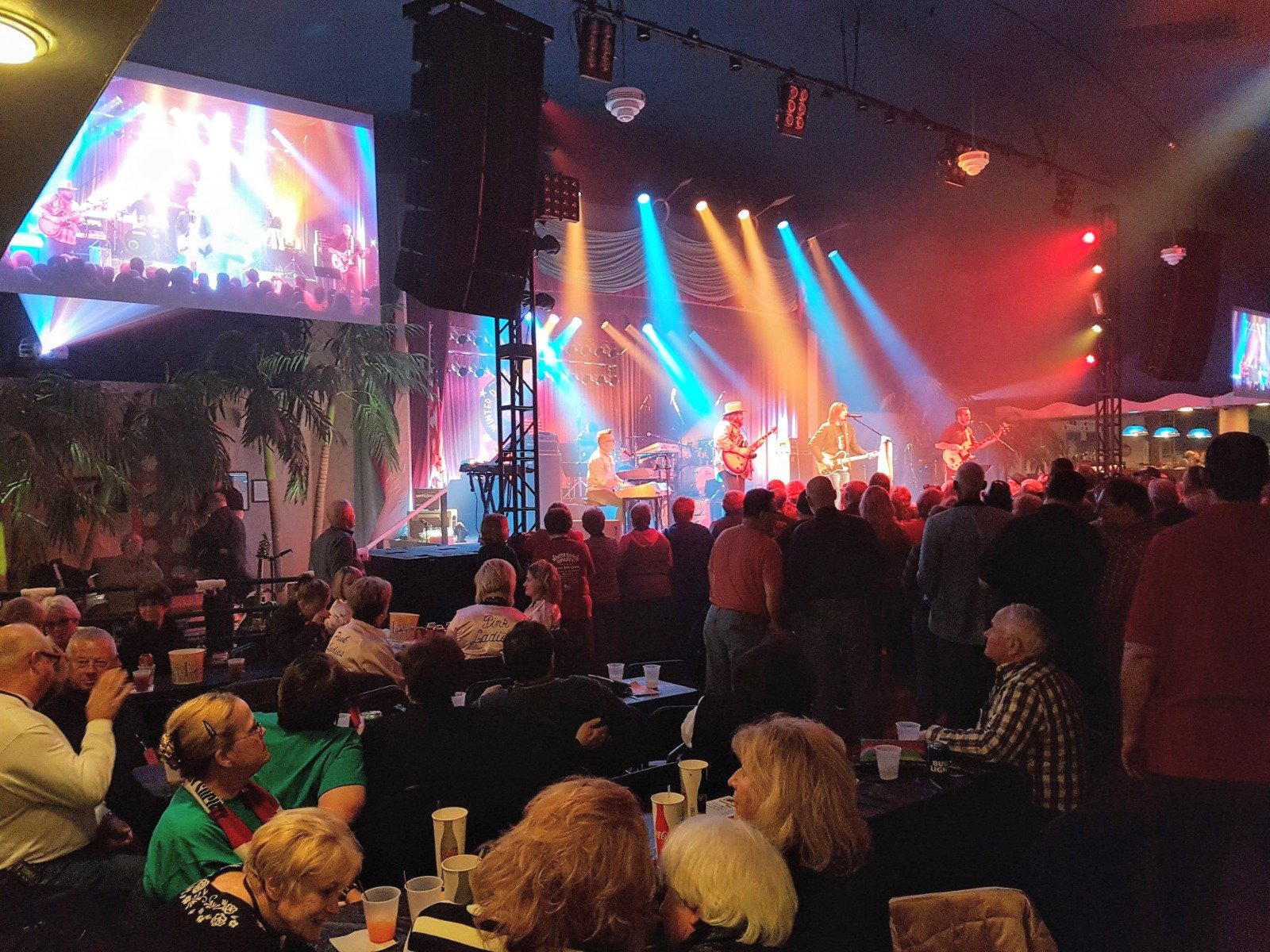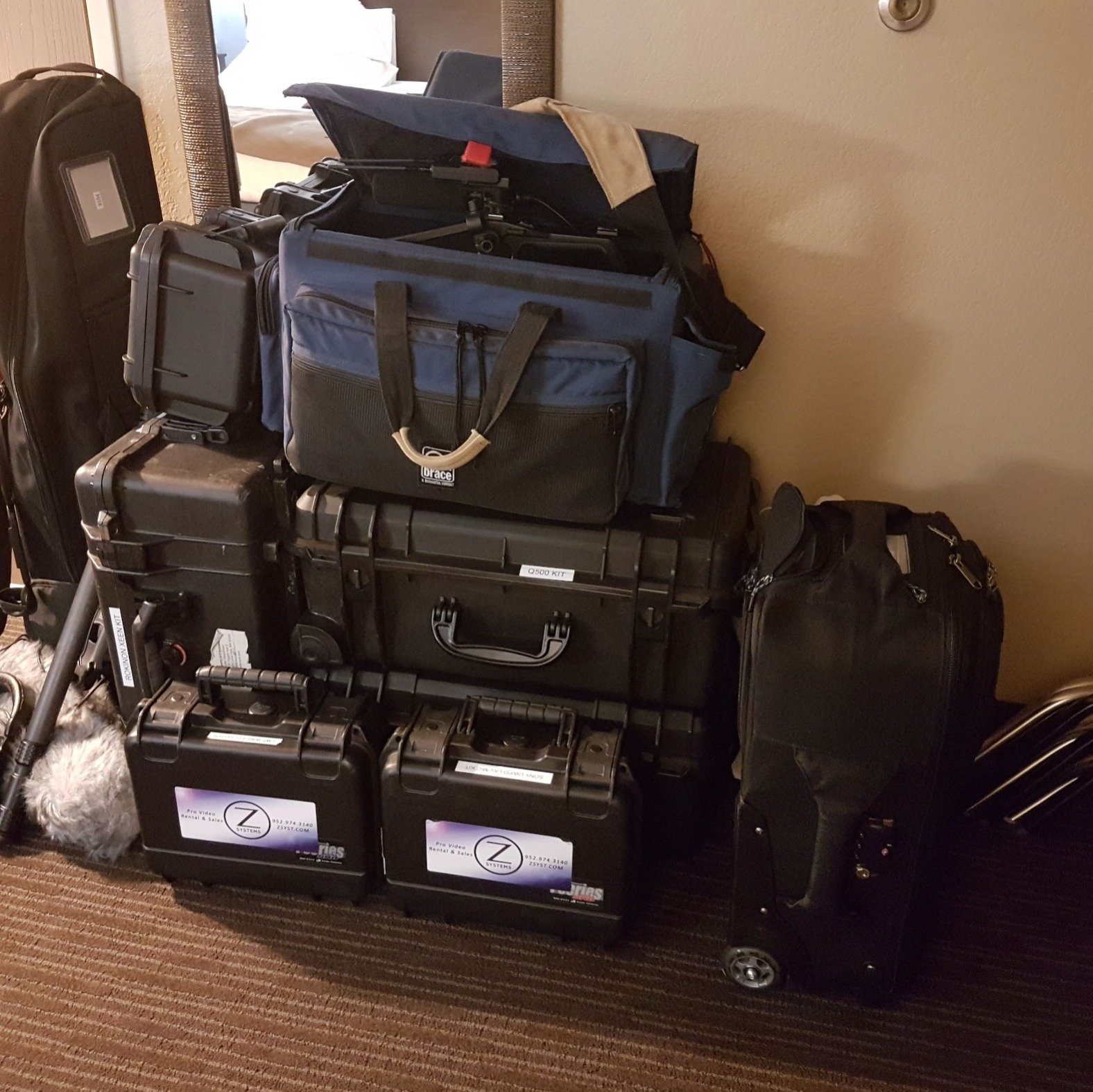 Preparation

It was late January when the days are short and the nights in Iowa are long, dark and extremely cold. Filming would include a vigil in a farmer's field, about 2 am on the 3rd of February.

I had not long owned my Sony FS7, a Netflix approved camera, and although I had used it on several assignments with great success, I was unsure how I could get the best low light performance from it, which to my knowledge the FS7 was not especially well suited for. As the film was to be a high-end production with an eye on the possibility of cinema distribution, as well as hoped-for TV and or Streaming deal(s), I would be filming in S-Gamut3.Cine/SLog3. I was used to setting the ISO to low numbers, which causes deliberate controlled over exposure, to improve the signal to noise ratio. The compromise being a reduced dynamic range, specifically reduced headroom for ultra-bright highlights, but the FS7 has such a high dynamic range this is not normally an issue. However, I was going to need to do the opposite, essentially to underexpose. The risk being this might result in pictures that would be very "grainy".

I made enquiries and a colleague advised, when using very high gain settings, burn-in the REC 709 LUT and apply a modest amount of sharpening. All very strange.

A test shoot was in order. So, after I made some late-night recordings at various high and very high ISO setting, using this suggested technique and shooting at f1.4 on one of my fast prime lenses, I took my footage to the film editor for assessment.

We were both surprised and I was relieved. The footage looked amazingly clean and very usable. Even recordings made at 5000 ISO were not going to need much work in post-production. I had a solution!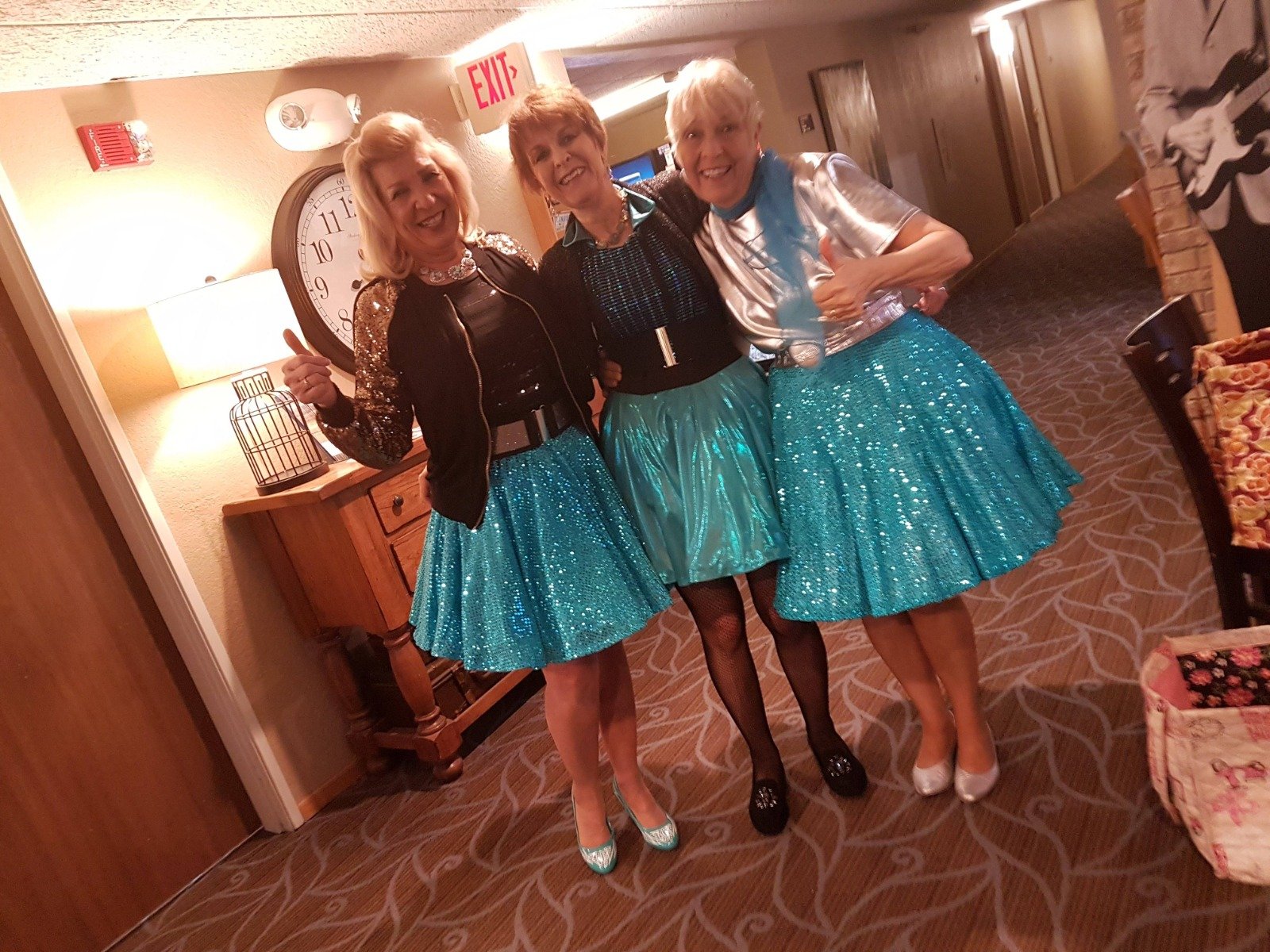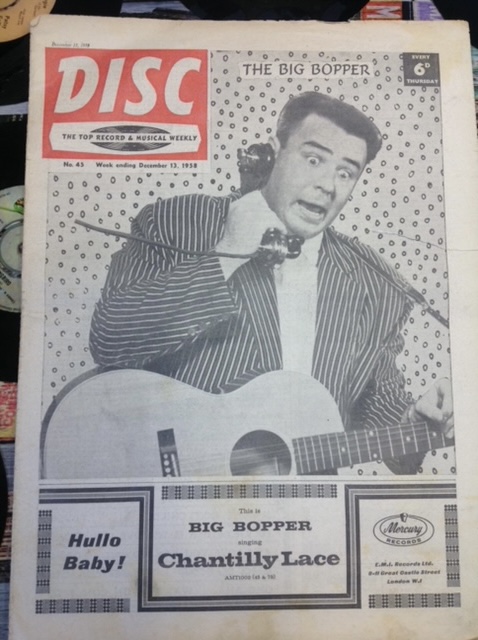 The story

A couple of days later, in Iowa, we drove from our hotel through an ice covered landscape to The Surf Ballroom, in Clear Lake. This venue was the home of the Winter Dance Party, a 3-day event that had been running every winter for decades and it was here in 1959 that the greatest legend of the entire Rock and Roll era played out. Buddy Holly, Ritchie Valens and The Big Bopper (JP Richardson), played to a packed house of adoring teenaged fans who enjoyed a night of refreshments and dancing to live music from three of the biggest and most exciting bands of their generation.

The boys and their bands had been touring through the MidWest for some time, travelling overnight, after performing. But their old bus was prone to breaking down, it had no heater, and 1959 was one of the coldest winters on record. Night temperatures were around -25C. To try to stave off the cold they spent the nights attempting to sleep huddled together on the floor of the bus wearing lots of clothes. It did not work. They lost their drummer who was admitted to hospital with frostbite.
In Clear Lake, Buddy Holly heard he could hire a 4-seater plane with a pilot to fly him and 2 others to their next gig, after they performed at The Surf.

A coin was tossed and a very reluctant Tommy Allsup lost his seat to Ritchie Valens. Waylon Jennings kindly gave up his seat for J P because The Bopper had flu, and so the seeds of the tragedy were sown.
But our film was about a scrap yard owner from Co Durham on his quest to get the Big Bopper inducted into the Rock n Roll Hall of Fame.

Buddy Holly and Ritchie Valens had been inducted to The Rock and Roll Hall of Fame but The Big Bopper had not.

So why are we making this film, and why should the Bopper be in the Hall of Fame?

Often overlooked, even forgotten today, The Bopper was a massively important person in the story of Rock and Roll and also in popular music more generally.

He was a DJ working for a radio station with a particularly powerful transmitter. One of the youngsters who loved his shows was a young lad, who was so excited by The Bopper and his music that when he grew-up he launched his own music career, and so Elvis launched.

The Bopper was a persona, created and adopted by JP Richardson to help him manage his shyness so he could perform. He was the first popular musician to have such a character. Others followed; Alice Cooper, and Dave Bowie, etc.

After his military service, in a bid to re-establish his career as a DJ, Richardson broke the world record for continuous on-air DJ broadcasting. He performed for a total of five days, two hours, and eight minutes, playing 1,821 records from a temporary studio setup in the lobby of the Jefferson Theatre in downtown Beaumont, Texas.

Massively successful songs he wrote included; Chantilly Lace, White Lightning, and Running Bear, which he and others recorded.

As a touring musician he viewed television as the way to reach much bigger audiences, so he made the very first Music Videos at a time when popular music was more or less confined to the radio, and indeed it was JP Richardson who coined the term, Music Video. He even foresaw that future musicians would sell their work mainly by video and the most successful would be very visually attractive.

Our hero, John Cumberland, the scrap man from Co Durham, had run a series of radio ads to promote his metals recycling business. He loves rock n roll and used this music in his ads. He noticed that the ads that were most successful were all based on songs by The Big Bopper.

He knew of course that The Bopper had died in the fateful plane crash but he found the adult son of The Bopper was living in Texas, so of course, he made a call and they became friends. The son was trying to get his dad inducted into the Rock and Roll Hall of Fame, so John promised he would try to help. Shortly afterwards, the son died unexpectedly and now John had a promise, to keep, to a dead friend.

And so started a many years long quest, and out of this came the idea to make a persuasive documentary film to promote and support his application for The Bopper's induction into the Hall of Fame.
A video company was commissioned and lots of GV's were shot, over 200 hours in fact, but strangely, no master interviews were recorded. So, rather later Glasshouse Media was asked to take over the production, numerous master Interviews and more focused B-roll were needed. I had shot quite a few projects with Glasshouse over several years, so I got the call.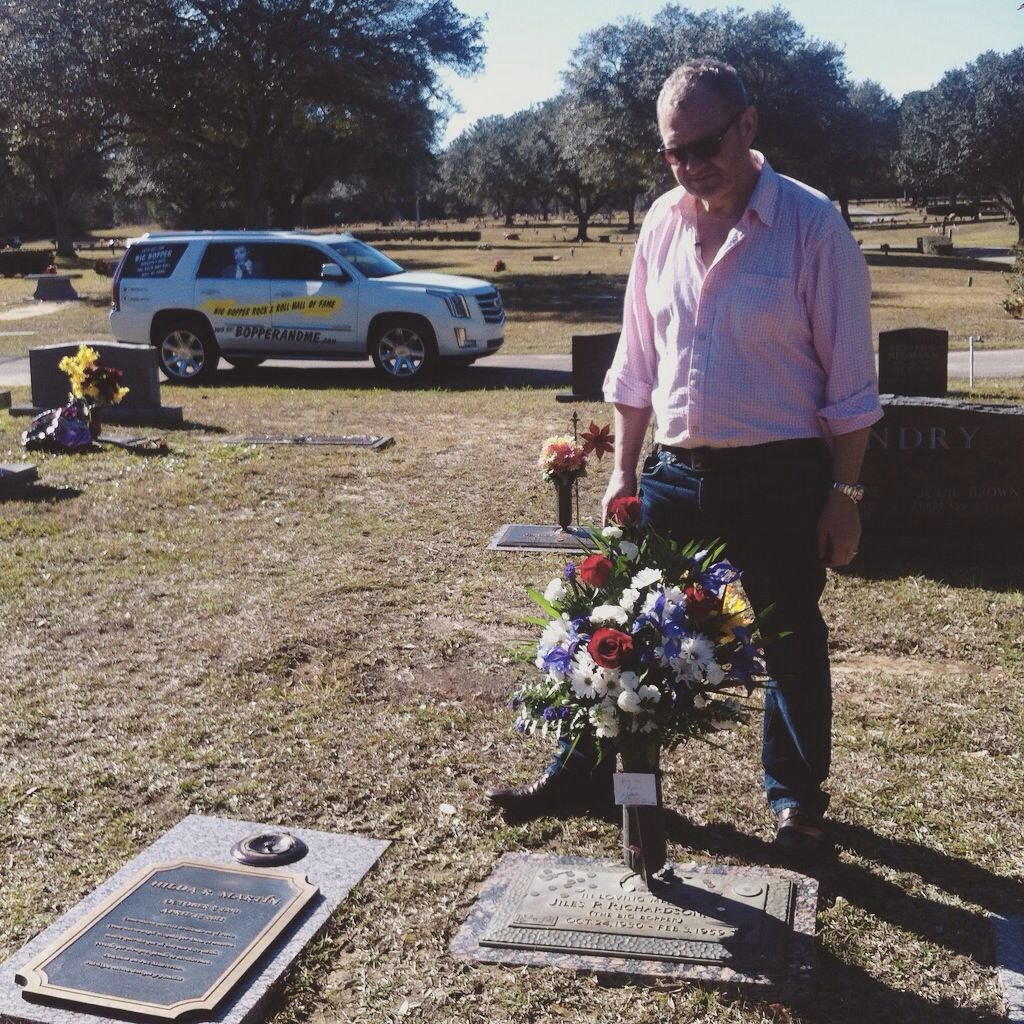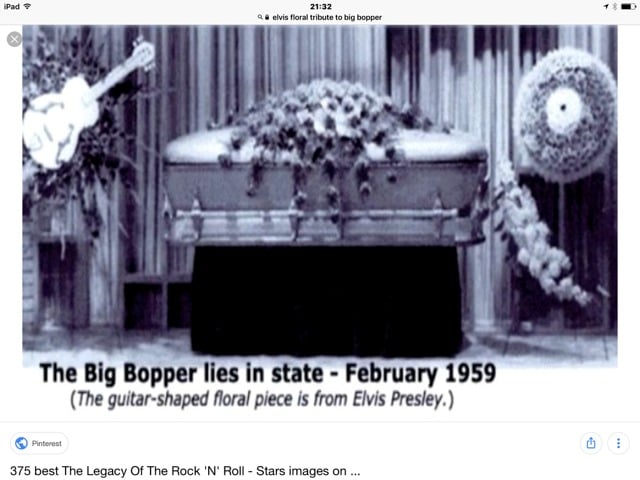 The shoot

Apart from the expectation of filming in a field in the middle of the night, filming the dancers in the middle of the dancefloor, away from the stage lighting, required 5000 ISO at f1.4; so having done my research and testing I felt much more confident about shooting this b-roll footage.

I had lighting, so the all important master interviews were no problem and of course much of the regular B-roll imagery was shot with normal levels of available light.

We filmed interviews in the Surf and a variety of other locations; homes, shopping malls, our hotel, a local radio station studio, a Beechcraft Bonanza aircraft (the same as the one they died in), and a snow covered garden overlooking the frozen Clear Lake etc.

There was one more interesting challenge. I had to get a POV shot looking through the windscreen of a Beechcraft Bonanza aeroplane, in flight. The idea was to use my shot, with some editing, to suggest the fateful flight. This was not exactly straight forward as the flight the boys took was in the middle of the night and with some snow falling. My flight was in daylight and there was no snow falling, and we had no grips equipment to mount the camera. So, working handheld, from the back of the 4 seater plane, shooting between the front seats, I filmed the windscreen and instrument panel as steadily as possible in a light aircraft in flight, using a high frame rate to help smooth the inevitable small camera movements.

We took the very same flight path as the boys did and when we arrived over the crash site we circled to pay our respects and to get some shots of it.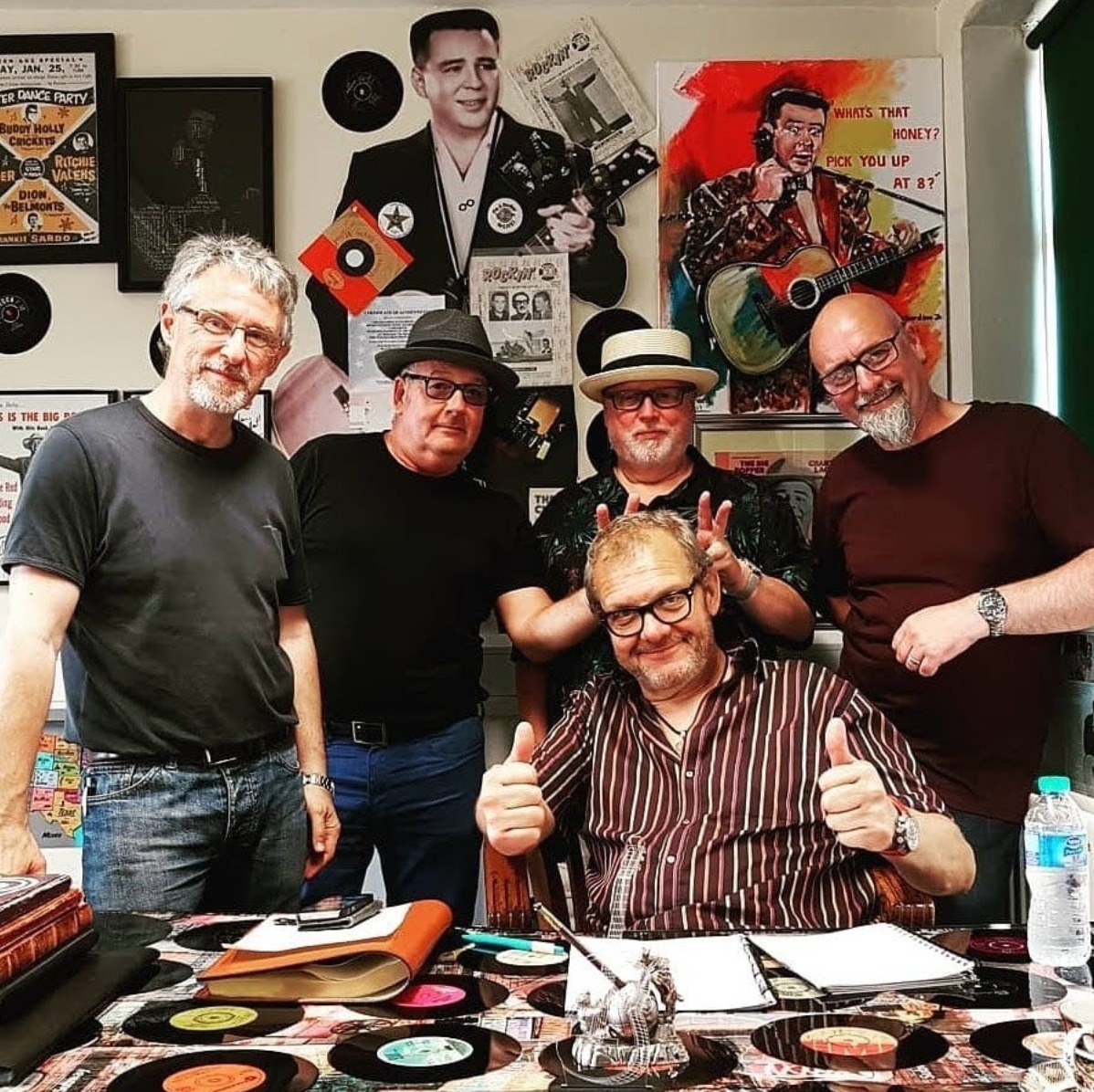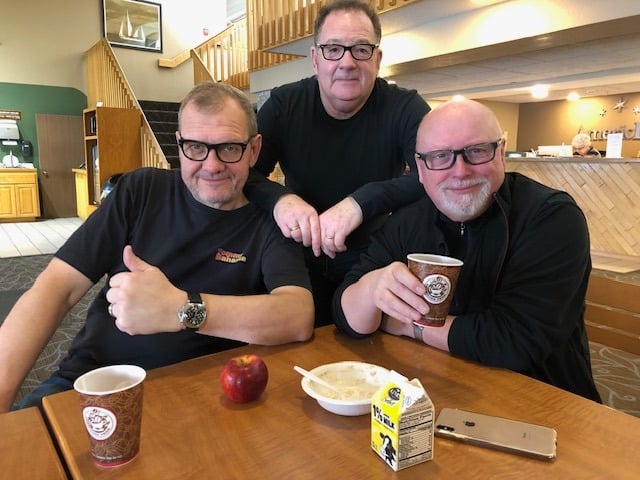 Back in the UK

Some weeks later, back at home, I stood my Sachtler 18 tripod in the front of my car and mounted my camera on it, pointing it through the windscreen. Snow was expected that night and so about midnight I set off for the high Pennines. The remote sections of the A66 are pretty quiet between 1 and 3 am and are essentially free from light pollution, just as I imagine the sky hundreds of feet above rural Iowa on a winter's night. My dipped headlights picked up the snowflakes as they fell into the path of my car, zooming past my windshield as I drove at the highest speed I dared to in the increasingly heavy snowfall. The road was salted so it remained clear of the snow thank goodness. The broken white lines on the wet black road reflecting my headlights created a subtle pulsating lighting effect but there was not much I could do about that. Telegraph posts and other street furniture also got in shot from time to time, too. But after an hour or two I was certain I had several options to comp into the aircraft footage.

There were other shoots to do in the UK. John had built a working radio studio in his scrap yard, The Junk Yard Dawg Studio, complete with a fully equipped sound studio where bands could play live or record songs. The green room, as one might expect, is a representation of a 1950's American diner. So, we filmed one interview there, of course.

We also filmed an interview with Sir Tim Rice, in his home. He is a life-long avid Bopper fan and is very keen for The Bopper to be in The Hall of Fame. He recounted insightful and supportive stories about The Bopper's life and work.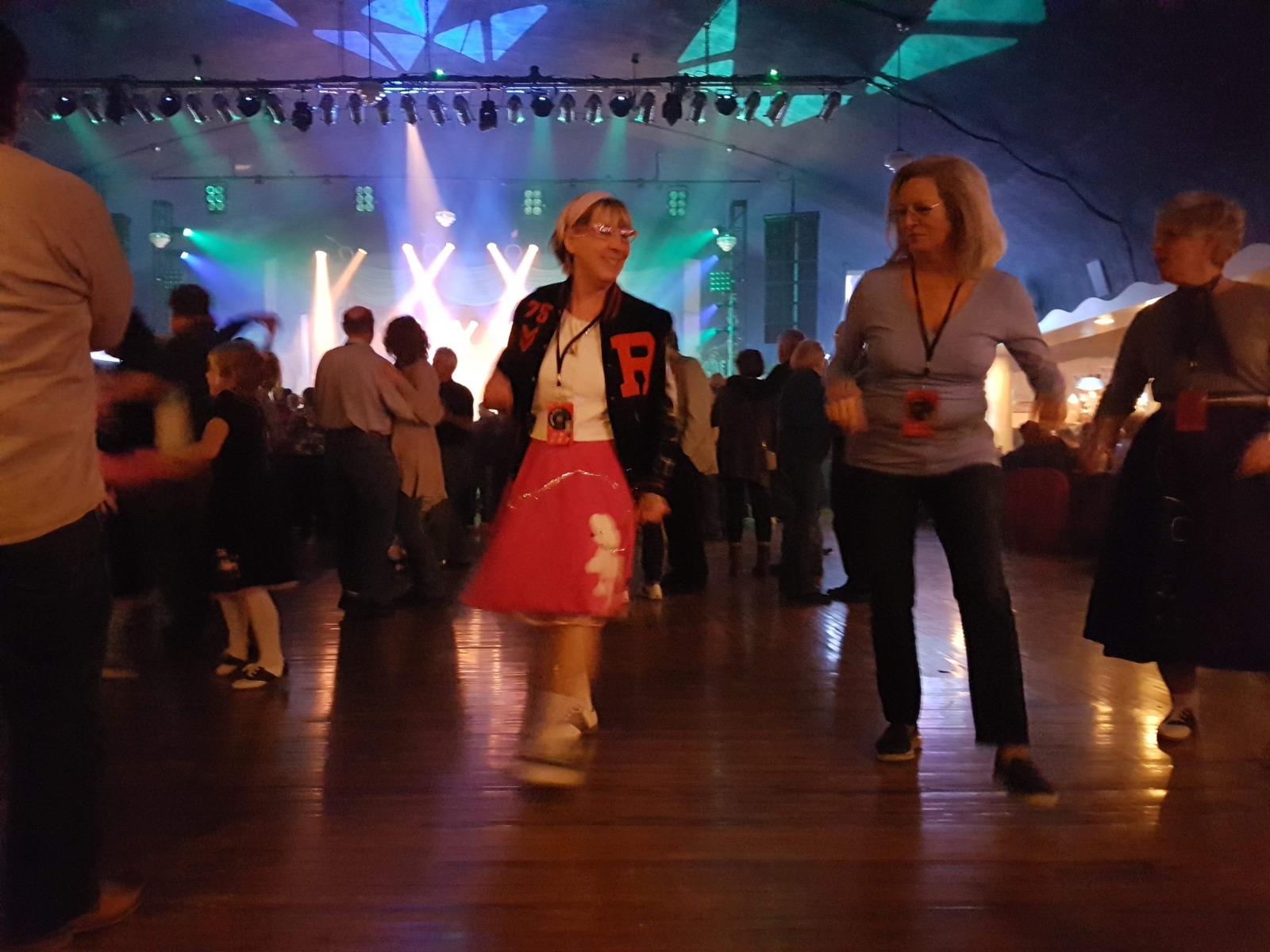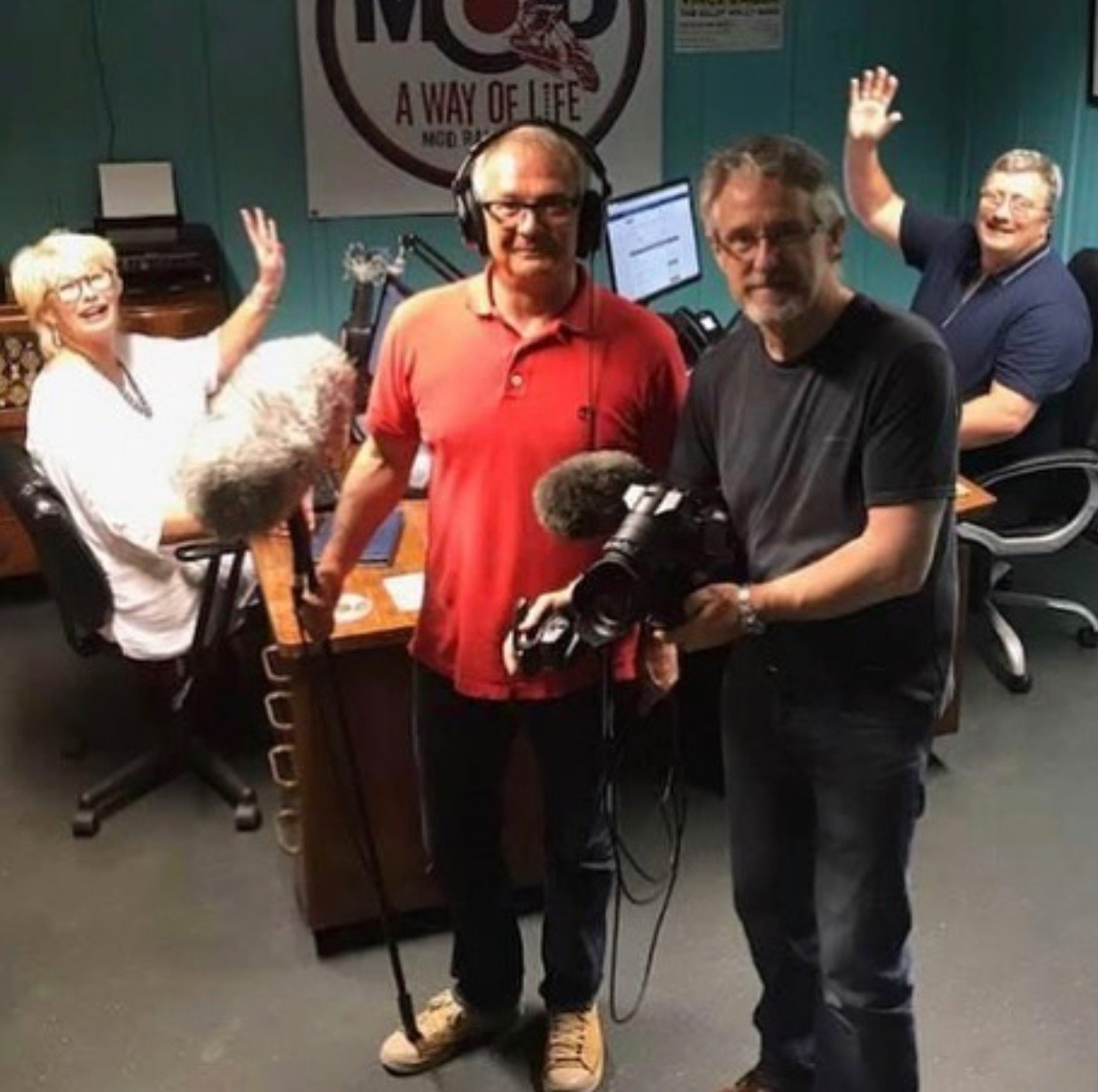 The present day

This film has layers of stories, an amazing crazy loveable and passionate leading character on a noble quirky quest, lots of humour, nostalgia and pathos, many interesting and colourful contributors, the locations are fantastic, and of course the music is fabulous.

However, it's one thing for a huge personality to make a professional film, it is altogether another thing to get a broadcast deal, especially when the film is full of music, meaning the cost of the music rights is pretty significant.

So, to date, there has not been a viable offer by any of the broadcasters or streamers, which is a great shame.
But John is not a man to be stopped.

On February 3, 2019, the 60th anniversary of The Day The Music Died, he had a screening of an early edit, at Clear Lake Arts Centre. John was worried nobody would turn up to watch it but the theatre was full to overcapacity and John with several others had to watch from outside.

In a much more finished state, Bopper has had 2 more screenings in the Arts Centre, each again to full houses and standing ovations. The manager said they have never had such reactions to a film.
In 2021, Bopper And Me had its first UK screening, at the Tyneside Cinema, Newcastle, and again a full house loved it and had the chance to listen to John talk about his adventure and to ask questions.

Recently, it has been accepted, over 200 other applicants, to be shown in its final form at the Iowa Independent Film Festival, to be held in September 2023.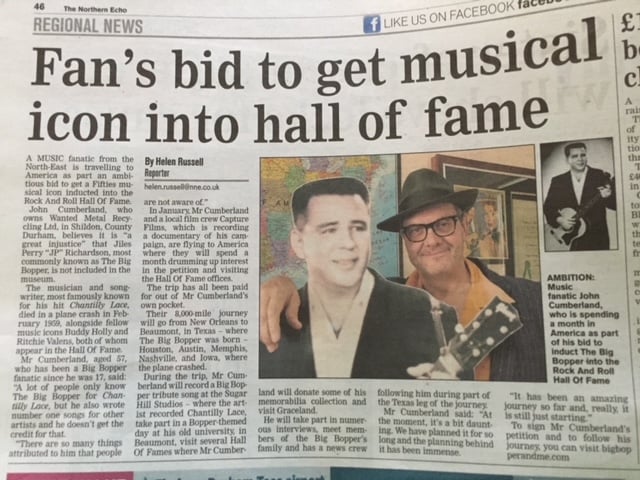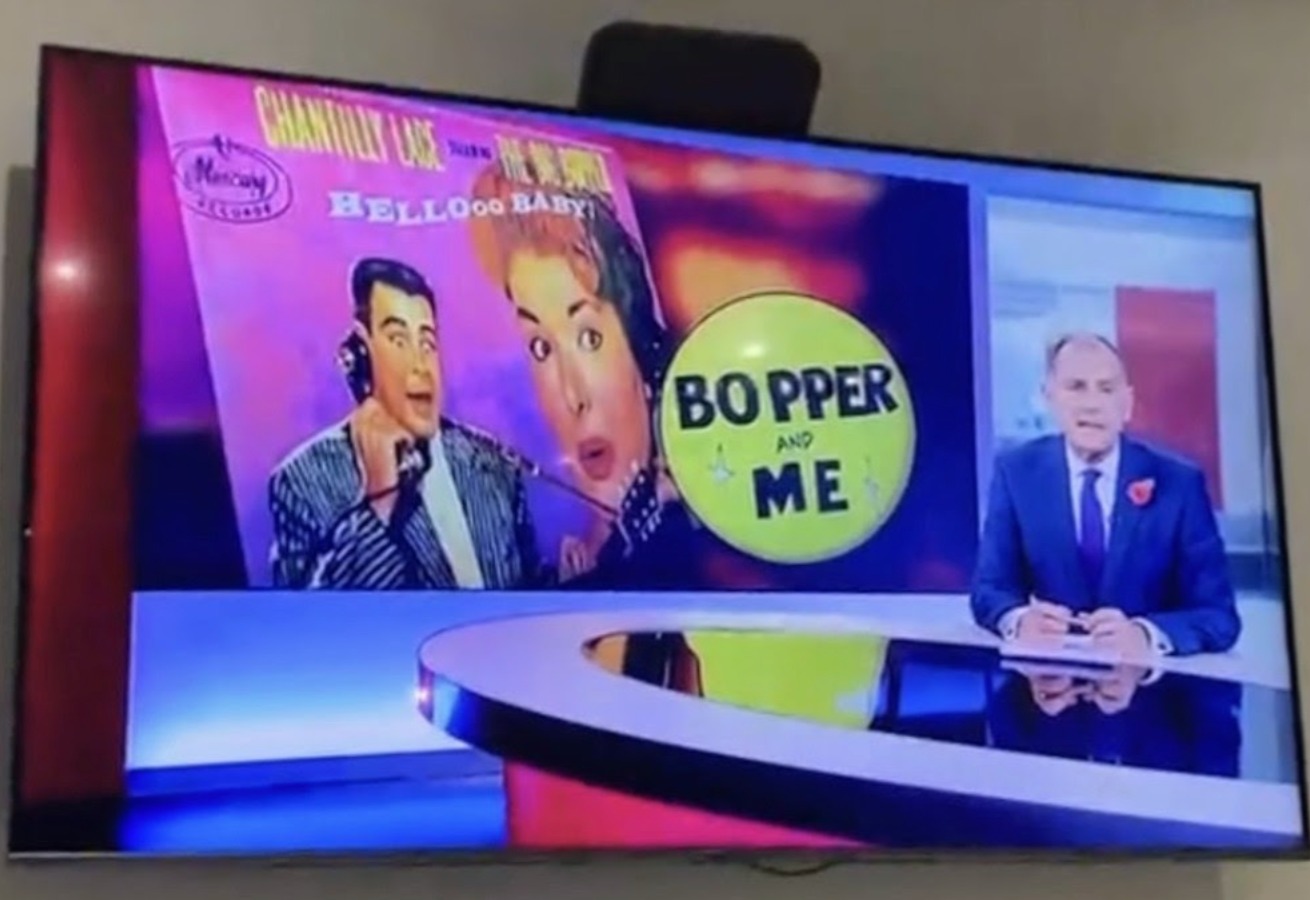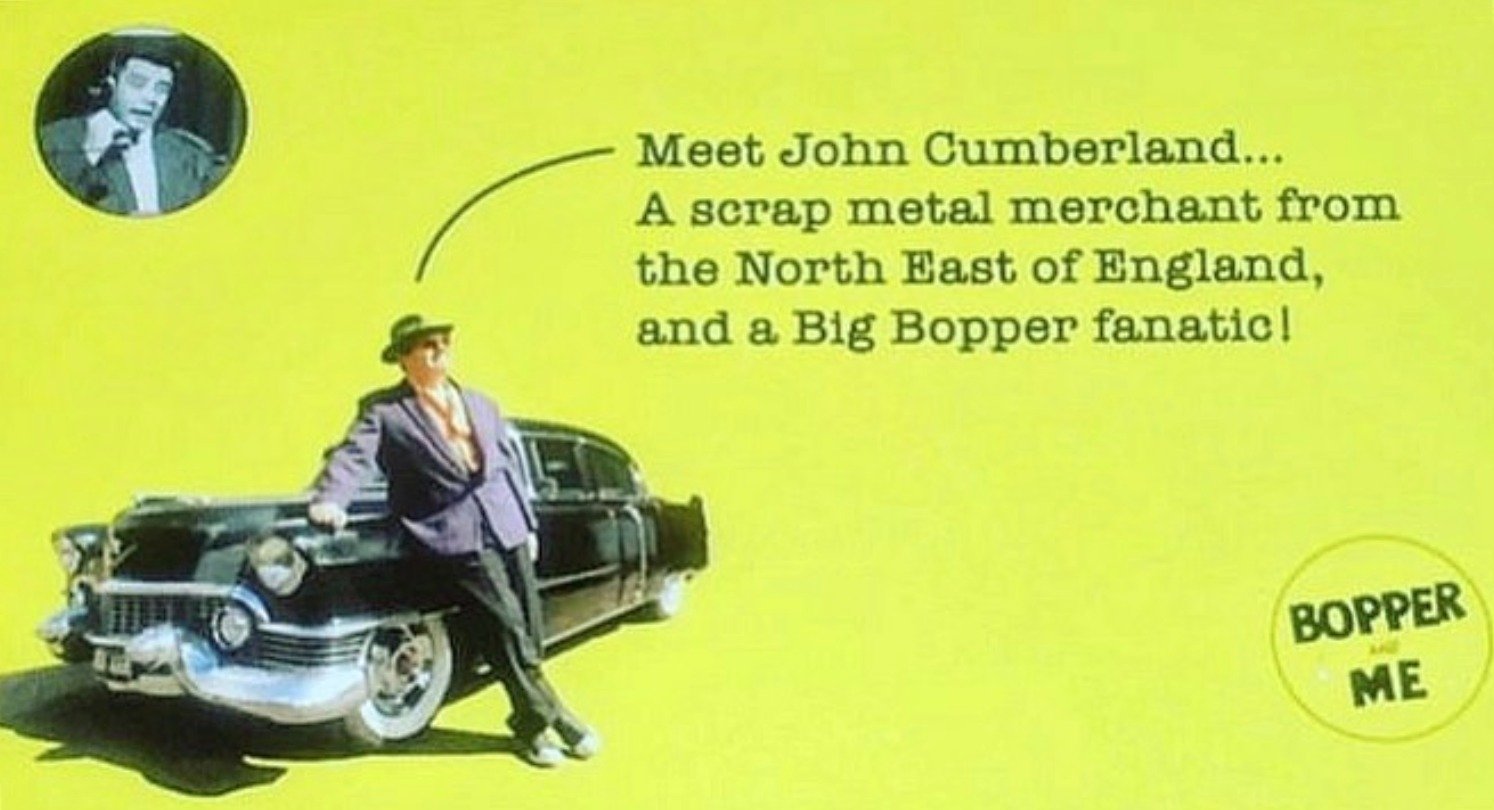 By Ian McCann
---
Back To Blog
Related Posts