One Show - Filming In A COVID-19 World
Just as discussions started between myself and fellow freelance colleagues in The SAB Network about when and how we may return to work in the PSC side of the industry, I received an email from the One Show enquiring about my availability for a shoot in Plymouth and Exeter. The timing was perfect given that we had just been discussing what precautions we need to consider taking and were actually in the middle of writing a document that was geared a little more towards the factual, PSC, and structured reality side of the industry. With factual and PSC work we go in and out of people's homes and workplaces. Being mindful of potentially bringing the virus to contributor's homes and businesses is a key consideration in creating and maintaining the relationships with the contributors that we need in order to produce programming and keep us all employed.

I already had in mind to order 70% alcohol-based wipes for the cleaning down of radio mic packs and the wireless camera links. As soon as I received the email enquiry from production I put the order in however with the best-laid plans the supplier then couldn't meet the delivery date! Thankfully production had said that they would be sending a supply of wipes with the camera kits that the shooting PD and AP was bringing. Amazon however was able to deliver on getting me 3 handy 100ml bottles of 75% alcohol-based antibacterial gel and A5 sized zip-able pouches so that each radio mic and IEM kit could be packed separately to avoid cross-contamination.

One Show VTs are generally include two cameras, a presenter chatting to one or two contributors at a time. They tend to be 3min – 4min VTs that are played into a studio-based show, so they are generally fast turnaround edits that require mixed split-track sound on the camera rushes that need the least amount of intervention possible from the picture edit. Unlike drama, broadcast-quality audio recorded onto the camera is critical for fast turnaround tv and a wireless camera link is essential rather than cabling in order to maintain social distancing.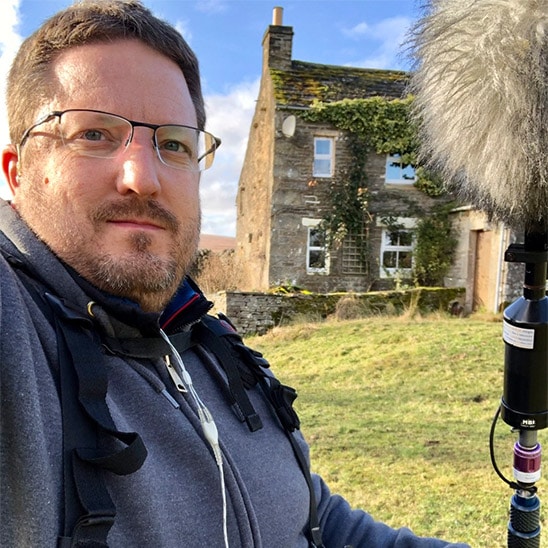 For a relatively straight forward shoot like a One Show VT when you actually stop and break down what you do and analyse the possible points of transfer you realise that it needs a little planning with regard to workflows. Sterilising radio mics is fairly obvious however putting it on a presenter or contributor correctly, hiding it and not getting any closer than 2m it starts to get a little tricky. Then there is the number of interactions that traditionally I used to have with the camera each day to set it up for a wireless link, timecode, and then keeping a general eye on it through the shooting day before finally de-rigging it again at the end.

Prior to shooting the production co-ordinator did send me the working guidelines re COVID-19 and they essential broke down to maintaining 2m social distancing where possible, cleaning the radio mic for the presenter with alcohol-based wipes and using the boom for contributors. During my chat with the PD a few days before the shoot the first encouraging words she said to me was "with the restrictions of social distancing we fully understand that things will take longer. Do what you need to do and don't feel pressured". That was music to my ears as whilst we can put in place various protocols to mitigate COVID infections, ultimately it comes down to being given the necessary time and as we know, traditionally television people sometimes find that a little challenging!

The night before the job, I went through my normal preparations except this time pre-empting the fact that I would need to have all my kit readily available, but also packed so that I could carry it all myself, therefore, negating the need for anybody else to carry anything on my behalf. To a degree, I have done this on a number of shows prior to COVID being a consideration. Having a Camelbak with a 1.5L of iced water helps compensate for the heavy mixer bag as well as keeping me hydrated which is another little obstacle now that we need to reduce plastics as well as not pass around water bottles. The first job on location was to wash my own hands with alcohol antibacterial gel and then wipe down the radio mic TX in front of the presenter with some alcohol wipes. Iwan Thomas is an old hand at this now so it didn't take too long to guide him through fitting his own radio mic. His wardrobe was kind to me on that particular day!

The intention was to use the boom where possible however my first location at the Naval dockyard in Plymouth was inside and the room was fairly small so the first thing to do was to ask the contributor to move to another room with me where I guided them through putting on a radio mic and then I stayed in the adjacent room whilst the cameras shot the sequence. Initially, I thought I was being clever and measured 2m on my boom so I would know how many sections I needed to deploy. What I had not taken into account is that whilst I am 2m from the contributor you then find you are stood right next to the camera so actually your boom pole needs to be 4m or more in order to be socially distanced from the cameras as well as the contributors. Because the One Show is a daily topical programme it has sensibly been decided that actually having the boom and even myself in the wide shot is acceptable in order to demonstrate the social distancing on screen. This is obviously a lifesaver with two cameras shooting a single and a wide, a 4m long boom pole and myself being somewhat vertically challenged.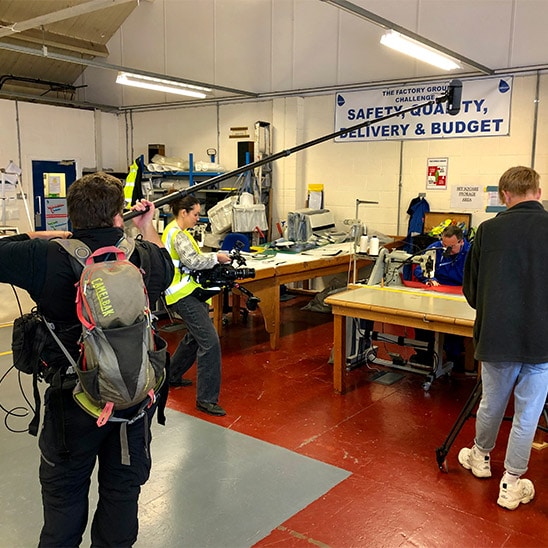 In deciding when to radio mic and when to boom two key things come into play, the size of the room, clothing, and the potential vulnerability of the contributor. Later in the day, we had an older lady so I decided just to boom that IV because there was the space, it was faster due to her clothing and most importunately she was potentially more vulnerable to the virus. The final location of the day in Exeter with the Devon Air Ambulance was largely boomed simply because the pilots and paramedics that we were talking to could get a call at any moment so we ran the risk of my radio mics disappearing for the rest of the day!
At the end of the filming day, each radio mic and IEM are returned to their respective zip bags so that they can be left stored from the rest of the kit. This avoids mixing potentially infected kit with clean kit that has not been used. The reality is that surface transfer in the context we are working and the gear we are using is very unlikely but precautions like this can reduce the risk further and reduce our workload when turning gear around for another day's work.

The wearing of masks is not currently BBC policy, whilst the Government guidance does not require it, however, given that occasionally with the permission of the people concerned, I may have to break the 2m rule in order to assist with a radio mic because of clothing and mic placement problems, I do wear a face covering. Having consulted a microbiologist who specialises in infection control he has advised that being in close contact with somebody for a couple of minutes is a very low risk however having a face covering for that short interaction will reduce that risk and gives confidence to the people who're personal I am invading. If they are uncomfortable in any way with the idea of me breaking the 2m then I absolutely won't do it and I will use the boom and we will shoot around it. Besides wiping down gear that colleagues, presenters, and contributors use and maintaining the social distancing, the regular use of antibacterial gel instead of handwashing between each task is the most practical precaution that you can take through the day. I keep one bottle in the van, one in my pocket and another in the mixer bag.

A week later and another One Show booking, this time on a couple of beaches in Cornwall with the RNLI Lifeguards and local surf life-saving club. More of the same, long boom poles for the vox pops and radio mics on the key contributors because the wind which makes swinging a 4m pole for a 20min chat very hard work. From a kit perspective, for PSC filming as I have mentioned, broadcast-quality wireless camera links and a long boom pole is going to be needed more and more in a COVID filming world along with wireless headsets for monitoring content. On the first One Show shoot at the Naval dockyard in Plymouth I needed to provide a couple of IEMs to our MOD minders who could not be in the room but needed to check content just incase we gave away the nuclear launch codes! For the second shoot on the beach, the PD needed an IEM in order to keep an ear on the content because of the increased distance and wind on the beach makes it hard to hear. For the beach safety VT there was a lot more talking to the public which often involves two or three people at once. Even though they are in family groups and can stand close to one another it's still a challenge trying to boom this overhead due to the sun. Prior to this shoot, there had been some collective discussion about the risks of booming from underneath and the Rycote windjammer becoming a virus collector because aspirated virus falls to the ground with gravity. It was with this in mind that I struggled through the day being vertically challenged and trying to keep boom shadow to the minimum. Now having finished the job and consulted the Network's friendly microbiologist, we think that actually booming from underneath does not carry a very big risk when done outside. The consensus is that the natural UV from the sun will take care of most things and again with regular use of antibacterial gel in place of water and soap then you are about as safe as you can be.
In ordinary times the PD, presenter, and myself would sit in a car to record VO however that's no longer a possibility. The solution now is for the presenter to sit in the back of a people carrier and the PD in the front passenger seat. I then leave my mixer bag recording on the driver seat and Iwan holds a Schoeps CCM41 in a Rycote basket with a pistol grip and does his VO read. I set a level and then leave the two of them to it however I monitor it with an IEM outside the vehicle and give the appropriate manic hand gestures if I think there is too much outside noise.

Dare I say it, "Stay Alert" and don't be afraid to remind those around us as our wellbeing is dependent on them as much as ourselves and the wellbeing of our contributors is also inherent to our collective financial wellbeing. The advice from the microbiologist is, to avoid closed spaces with poor ventilation, crowded places with many people nearby, and close-contact settings such as close-range conversations. Ultimately with some extra time, planning, and most importantly co-operation it was just another regular day at work and working within a COVID world becomes second nature fairly quickly.

By Oliver Machin – Sound Recordist
By Oliver Machin
---
Back To Blog
Related Posts