Working With Sab Covid-19 Protocols
Over the last month, I have been shooting with BBC's The One Show, following the COVID Protocols set out by The Sab Network. There has been a lot of uncertainty within the crews I have worked with, and even with solid risk-assessed procedures of their own, I have seen first hand the battle between creativity and responsibility.

As usual, what is required on a shoot varies enormously, so it has been more than a little helpful to have a well thought out set of procedures to work within as a production sound mixer in this new working environment.

In my experience, the easiest and most practical solution for sound has been shotgun mics. As often as possible, using a boom operated by myself and/or using a variety of stands and sometimes asking for the help of another production member to operate a wireless boom.
That being said, even though this seems like an obvious solution during pre-production meetings – in the moment, the shots that used to be possible, now with everyone spaced apart look very different from old expectations and often a last-minute workaround is required.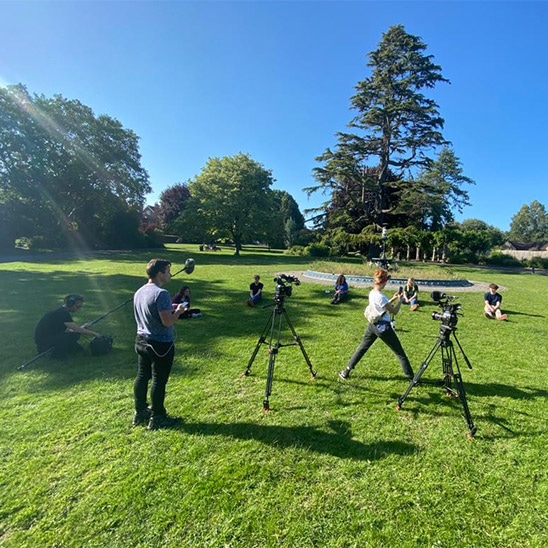 With a box full of bagged and sanitised radio transmitters, mics, and consumables at hand (green box), not only can I be flexible but can demonstrate my duty of care. I clearly see this putting contributors and PDs at ease, turning a stressful moment into a reaffirmation of care and professionalism.

Even though these PSC style shoots are technically straight forward, they are often high profile and carefully watched by the public. It has become second nature to form an equilateral triangle formation between camera, sound and contributor – each of us 2 metres apart. However, for any two-shot, it has become normal to include the boom op in the shot, as the shots are necessarily wider with the presenter and contributor distanced. This has become another new standard during Covid-19 and shows a duty of care to the viewing public.

At the end of each shoot, all of my kit that has been in contact with other people and/or equipment is sealed in my red box for sanitising.

Covid-19 must be a nightmare for production teams, but working within the SAB Covid-19 Protocols has actually been a comfort, both for me and for the film crews I've been working with.

By Pete Gill – Sound Mixer
By Pete Gill
---
Back To Blog
Related Posts