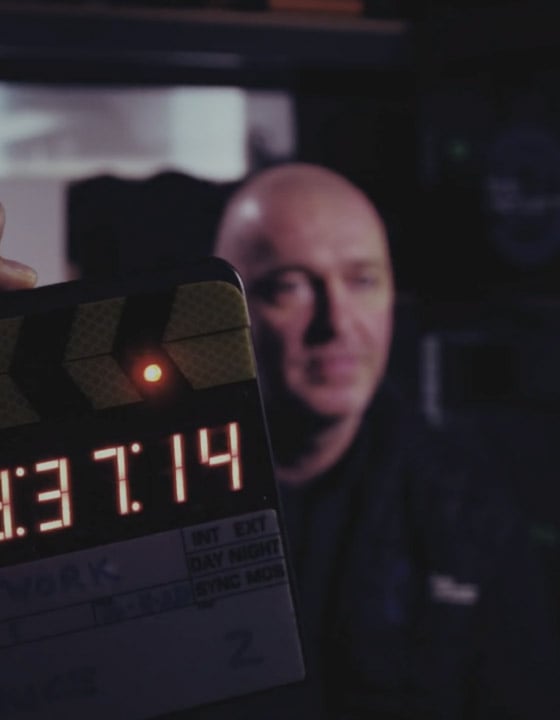 Our Story
Crew Booker
The Sab Network was born out of The Sab Sound group, a collective of highly experienced Sound freelancers working together to facilitate their clients. The knowledge that within this tight knitted community, fellow members could be trusted to deliver the highest levels of professionalism if referred to a client by a fellow member, opened up opportunities for all. It also became a place to share knowledge, discuss complex technical solutions and innovations and offer moral support. Each member works as a separate entity but can also combine forces for the benefit of their clients.
At the heart of this industry are the people that make seemingly impossible things happen. Whether it's delivering incredible content for corporate marketing or providing mind boggling technical solutions for massive OBs, without the right people, things will go wrong and can become very expensive. Sab Sound members recommended others they rated highly to join and it grew to more than thirty people covering many areas within Sound Recording and Production. Producers and Coordinators learned that every member would deliver to the highest professional standards.

Stuart Bruce, founder of Sab Sound Ltd. and Freelance Sound Supervisor and Recordist for more than 25years, recognised the benefit for both clients and fellow members of combining services. If it could work in Sound, why couldn't it work in other sectors? Clients (Particularly overseas clients) were already asking him for recommendations for other job roles.

As with the Sab Sound group, the service should be completely free to bookers. Approved members would pay a fixed subscription to remain part of the group. Rates for bookings were to be negotiated between freelancer and client and payments made directly to the freelancer booked.

When considering a way this could be achieved, countless hours were spent figuring out how to build a viable number of the most accomplished and capable hands throughout all roles to provide a single, trusted source for Production Companies, Broadcasters, OB Companies, Corporate Clients and frankly anyone else looking to hire professional broadcast standard Crew. The process of 'peer recommendation' continues today as the main source for the growing Network. Where this was not possible, a rigorous vetting procedure was designed to maintain the same exemplary standards for membership. It isn't easy to become a member of The Sab Network!

At the same time, a system needed to be created to present the skills and services of each and every member in a cohesive, accessible and practicable way. The incredible virtuosity of individuals cannot always be communicated through a credit list, and 'bookers' were missing out on a wealth of knowledge and talent. Due to the complexity of projects and the lack of a feasible mechanism for discovering, communicating and booking dependable, seasoned experts, the industry turns back to 'who you know'.

And 'who you know' is great, as the wrong person on a shoot can have a destabilising effect on the production. By asking someone you trust for a recommendation, the booker is assured that all the recognised qualities and expectations will be met. It's also precisely why recommendation is as the heart of the Sab Network.
Start Now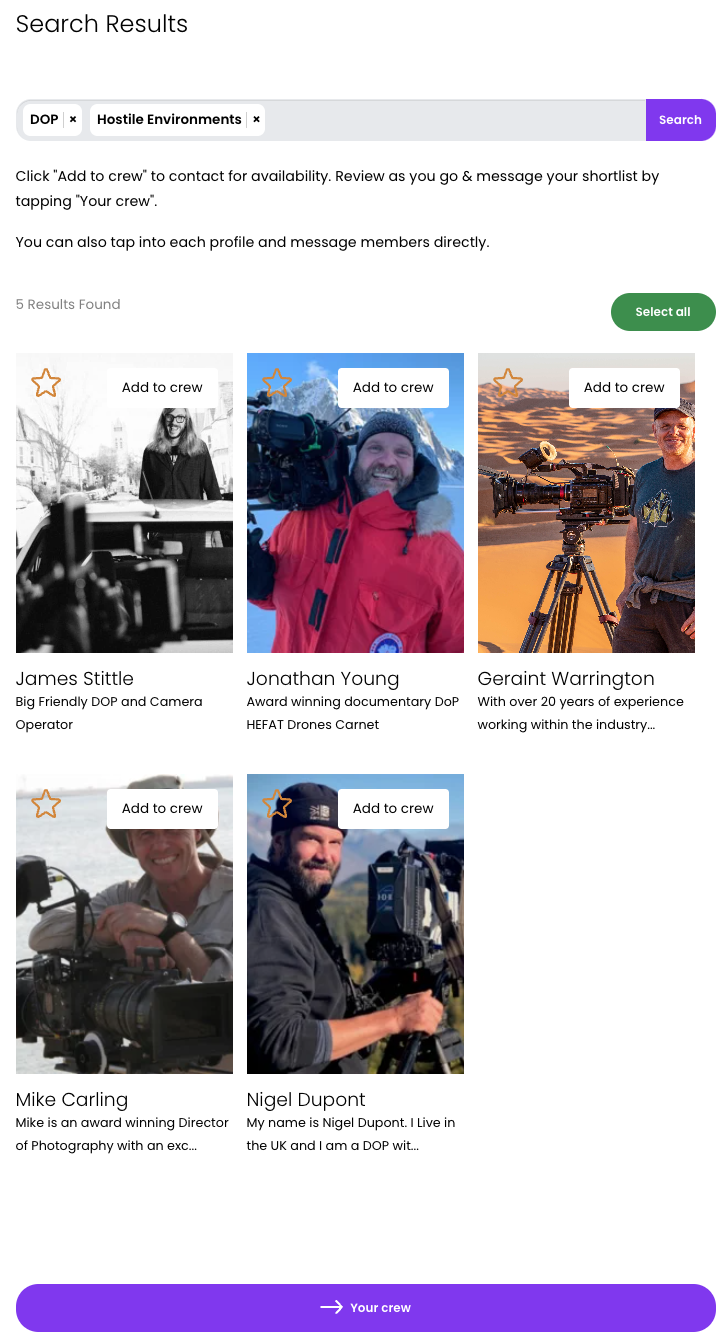 The System
The System
We knew we represented great people, we just had to figure out the best way to present them. Communication and speed is the basis of the system. For a busy Production Coordinator juggling a thousand tasks, finding crew, passing information and communicating between the team can be a laborious process. We have designed a system that allows a booker to search using their requirements, with the system automatically filtering members and showing results weighted by closest match. This means that even complex criteria can be accommodated for. The profiles of our members are the most detailed out there. It's this detail that bookers can tap into through our search functions. Of course, it doesn't have to be complicated unless you need it to be.
The process goes something like this although it's much more fun to play about with the actual system yourself! You won't break it (believe me we've tried), and as long as you don't actually post the job, no-one will know.
1. Specify the requirements of the project.
2. The system then provides a shortlist of members matching the criteria.
3. With one click, the booker can check the availability of either all or a select group, members are instantly sent the details via our app. Those live responses are then relayed back to the booker often in seconds (Saving the time required to contact multiple people, only to find they are booked elsewhere).
4. The booker is then presented with everything they need, they can message prospective members through the system ensuring speedy recorded responses to any follow up questions and saving time switching from email to text to WhatsApp to...
5. Once ready, the booker can make their selection. The member selected is confirmed and all other matches are automatically advised that the job has gone elsewhere.
6. All details and interactions are then held and can be retrieved at any time through the client login. Once posted, answers on availability and any questions sent are continuously updated as members respond.
We don't believe finding and booking great crew should be arduous, if you're looking for a Sound Recordist in London tomorrow or a DOP for a two month project in the Amazon, we want to make sure you get the best person, quickly and efficiently.
Start Now